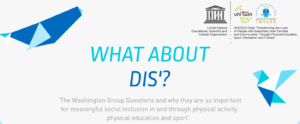 Welcome to our new blog! We are so glad you are here!
All over the world, people with disabilities are not afforded their fundamental right to be included in sports, physical activity and physical education. We believe that the environment plays a critical role in disabling individuals and limiting participation. We also need to know about the individual needs of people who live, work, and play in our communities to ensure opportunities are available.
In the past, data on disability was stigmatising. It focused on diagnosing and labeling others. It doesn't have to be this way. We want to examine a new approach to gathering data about disability. We believe, the Washington Group (WG) questions may be used to provide reliable and comparable data that can then be used to act on and measure progress. The WG questions explore actual experiences of people without using the term disability or any impairment related language. Questions relate to daily functioning and the individual's ease and/or difficulty in performing daily activities, which take into account individual differences.
In this monthly blog series, we will examine the WG questions as a way to address the need for nationally comparable and internationally harmonized disability data. We will reach out to gather multiple perspectives to explore questions about why and how the WG questions are useful within the context of physical activity, physical education, and sport. Stay tuned for our first post, which takes a step back to reflect on where we've come from in capturing disability information within our research practice.
Download "What-About-Dis_Infographic.png" What-About-Dis_Infographic.png – Downloaded 503 times – 360 KB