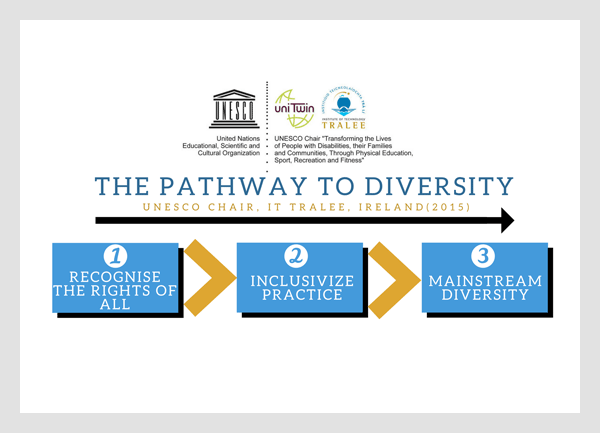 This pathway identifies the journey towards mainstreaming diversity and was created by the UNESCO Chair at IT Tralee, Ireland to acknowledge the steps that are necessary to co-create a society in which diversity is mainstream and in which accessibility is universal → UniversAbility.
Recognise the Rights of all.
Firstly, the rights of ALL must be recognised. Various cultures are at different stages of this recognition. Often a lack of awareness and/or social stigma need to be addressed and transcended.
Inclusivize Practice.
The second step in inclusivizing practice. Inclusivizing underpins all the willingness, intent, actions, and resources needed to increase accessibility for people with disabilities and other marginalised groups. Inclusivizing practice is a continuous process that always strives towards mainstreaming diversity. It is not about simply completing a course and 'ticking a box'. It is about shifting the ethos of the organisation to engage with their clients and to strive towards meeting the needs of all clients where practically possible. The UTMF is a validated framework that has been developed with the purpose of supporting organisations in inclusivizing their services.
Mainstream Diversity
This first two steps enable and facilitate a society in which diversity is mainstream. A society that is ready and willing to include ALL regardless of their ability, gender, culture etc.
We recognise that stakeholders will experience varied journeys as they work towards mainstreaming their services. For example, some stakeholders may choose to work with specific groups with similar levels of ability until they build on their experience and competency to expand their services to a wider range of ability levels, ultimately working towards expanding their fitness services to all.
It is important for physical activity providers to reflect on their position within the 'The Pathway to Diversity' and to identify ways in which they can progress along the path.